The 2018 RAM 3500 Vs
2019 Ford F-350 Comparison for Covington, KY
Which Is A Better Value For You? We Go Over In Depth, What Each Of These Trucks Has To Offer The Residents of Covington, KY.
Should You Buy The New RAM 3500?
So, you're looking for a heavy-duty pickup to help you tackle those heavy duty loads in Covington, KY and you're wondering which is the best option for you? Allow us to help you sort things out!
We know how busy you are, so we took the time to put together this head-to-head matchup of two of the segment's dominant trucks: the 2018 RAM 3500 and the Ford F-350 and you will see that the 2018 RAM 3500 comes out on top in almost all the features that we compare them at.
You can head over to our Northgate CDJR dealership in Covington, KY to take the 2018 RAM 3500 for a test spin yourself to see what we are talking about when we say that 2018 RAM 3500 is the way to go.
RAM 3500 vs Ford F-350: Performance Features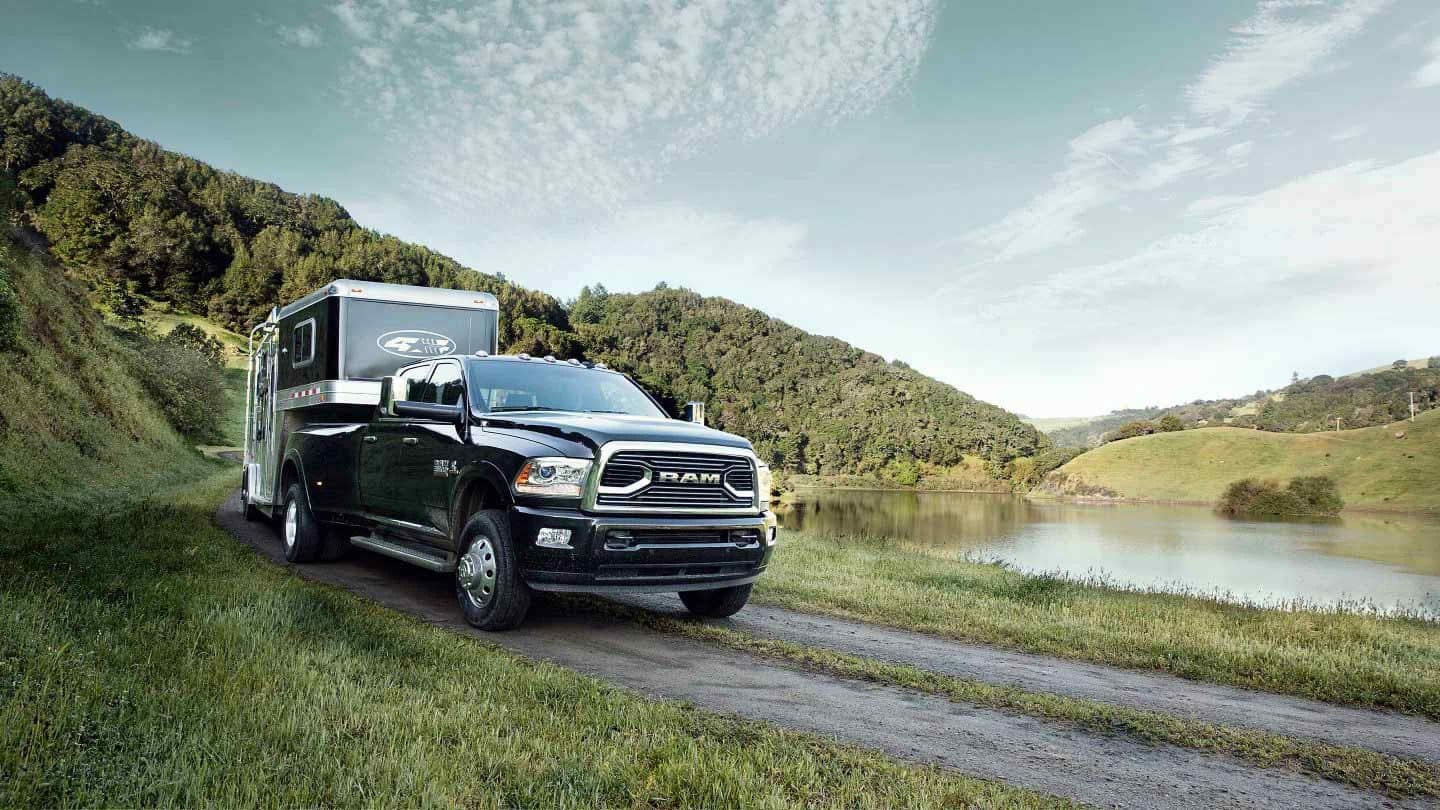 So let's look at the towing capacity. The 2018 RAM 3500 outperforms the Ford F-350 if you're looking to pull the heaviest loads. If we move on to seating capacity, you'll find that both of these heavy duty trucks are equally fit to carry the same number of people. So all in all, you'll be able to tow or haul a bigger payload in the 2018 RAM 3500 than the Ford F-350, dues to its significantly greater cargo capacity.
Lets look at something most might forget about, turning radius. If we compare the Ford F-350 to the 2018 RAM 3500, the turning radius of the Ford F-350 is much larger. This means it will be much harder to maneuver in and out of small areas.
The RAM 3500's Technology Features
Three-link Front Suspension
Let looks what the Technology Features the RAM 3500 has and it has plenty of them. First & most important is the 3 link front suspension. It was developed for the 4x2 and 4x4 models of the RAM 3500. This one piece of equipment plays a major role in why the RAM's Gross Vehicle Weight Rating (14,000 lbs) and Gross Combined Weight Rating (39,100 LBS) are so high. In combination with the RAM 3500's wider frame and large stabilizer bar, the 3-link suspension utilizes better positioned springs and higher quality shocks to aid in providing more ride comfort to the driver, especially when towing or hauling a large load
Trailer Harness Connector
This makes it easy to connect any trailer's or equipment's electrical system with the standard trailer harness connector.
Heavy-Duty Hooks:
The RAM 3500 also features hooks that are directly mounted to the frame. They offer a 100% solid grip and can aid you in any tasks that will require some heavy towing or pulling.
RAM Active Air:
This system is paired with the Cummins 6.7L Turbo Engine. At its core it is a computer controlled valve system in the engine's air filter box that automatically decides where it gets air from. This allows the engine to keep operating at optimal performance in any weather scenario.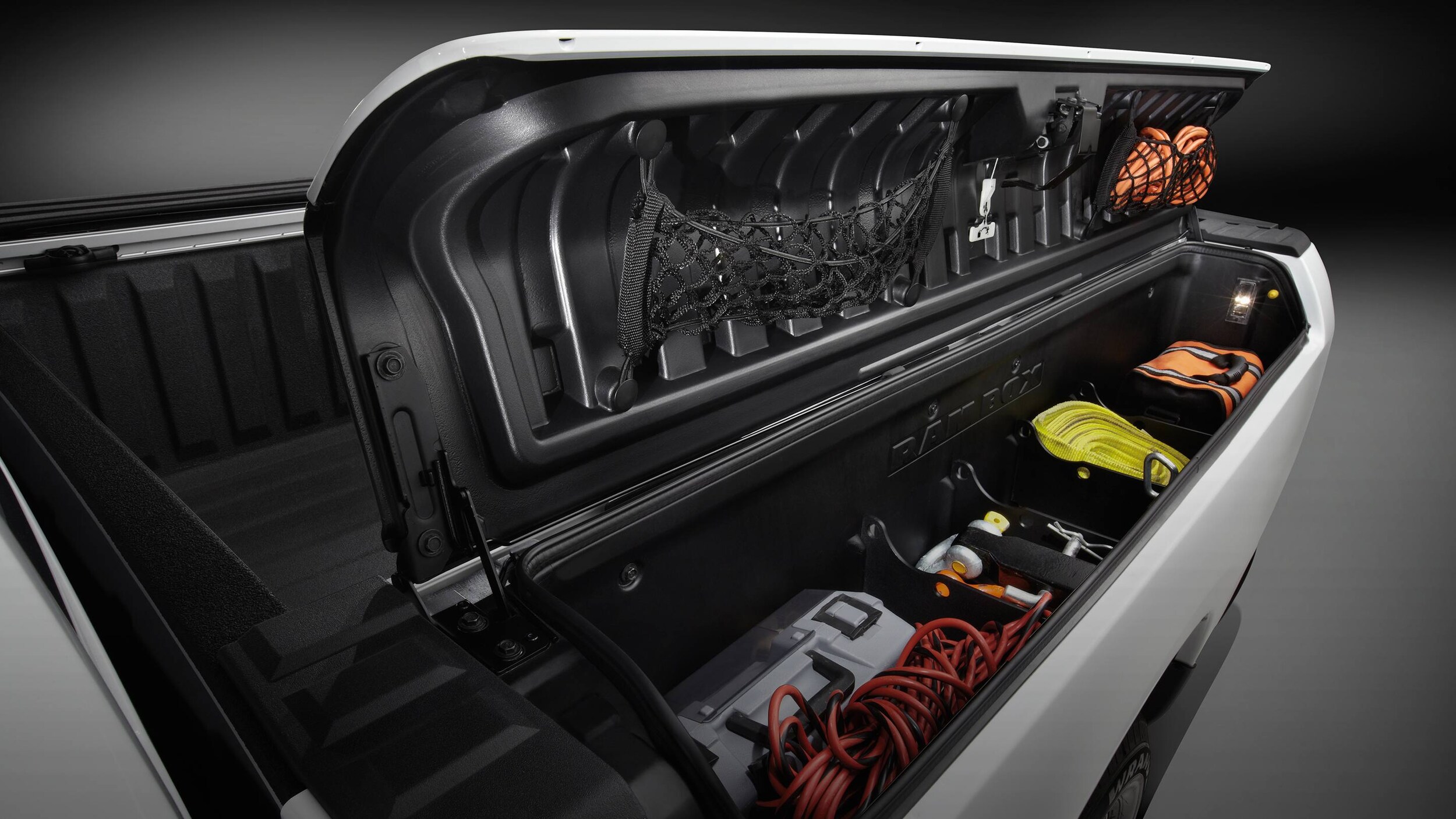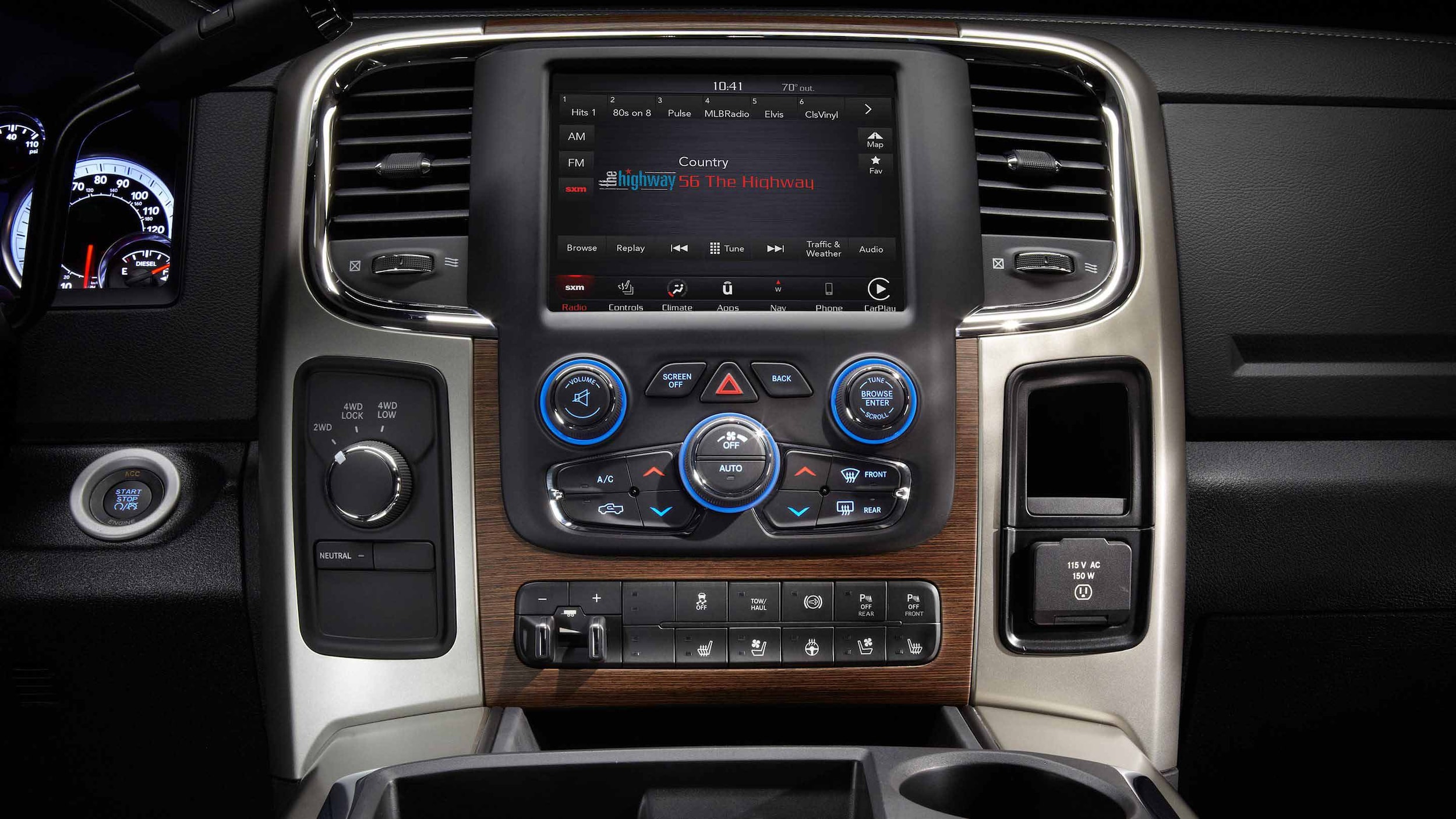 Tow/Haul Mode Select:
RAM Heavy Duty Trucks are designed with a tow/haul mode that changes the transmission setting to allow it to downshift more aggressively, which is better for hauling or towing.
Snow Chief Package:
Do you use your truck to plow snow? Great, the 2018 RAM 3500 has a package for that as well. It one of the highest snow plow ratings of up to 1,265 pounds
The Ford F-350's Tech Features
BLIS (Blind Spot Monitoring System):
Ford super duty offers BLIS with cross-traffic alert.
Ford SYNC 3 infotainment system:
Allows for easy bluetooth connection, also allows for hands free voice recognition and phone use.
Quad Beam LED Headlamps, LED Foglamps and LED Taillamps:
Quad-beam LED headlamps/tail-lamps have intense brightness, efficiency and durability. They're better than the regular one light bulb lamps most trucks have.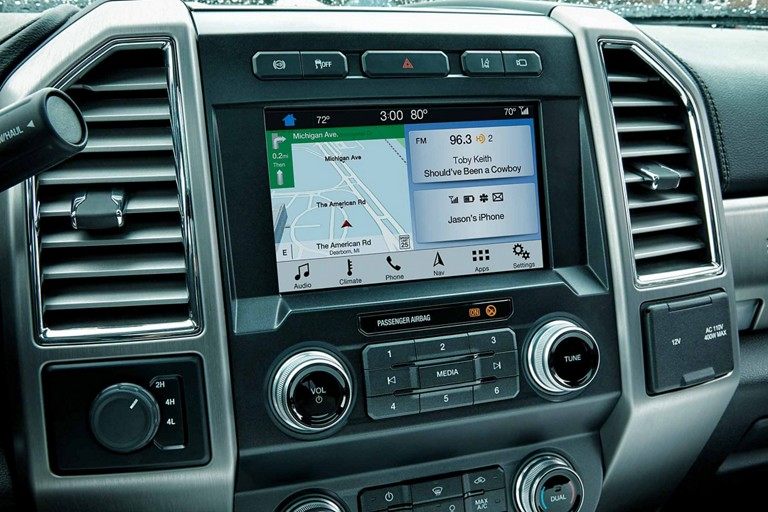 RAM 3500 Vs Ford F-350: Safety
Most people are surprised by the luxury and style that accompany the interiors of today's heavy duty trucks. Both trucks in question, feature leather-trimmed seating and infotainment systems, though, in our opinion, the Uconnect system found in the RAM 3500 is easier and more intuitive than the Ford's system.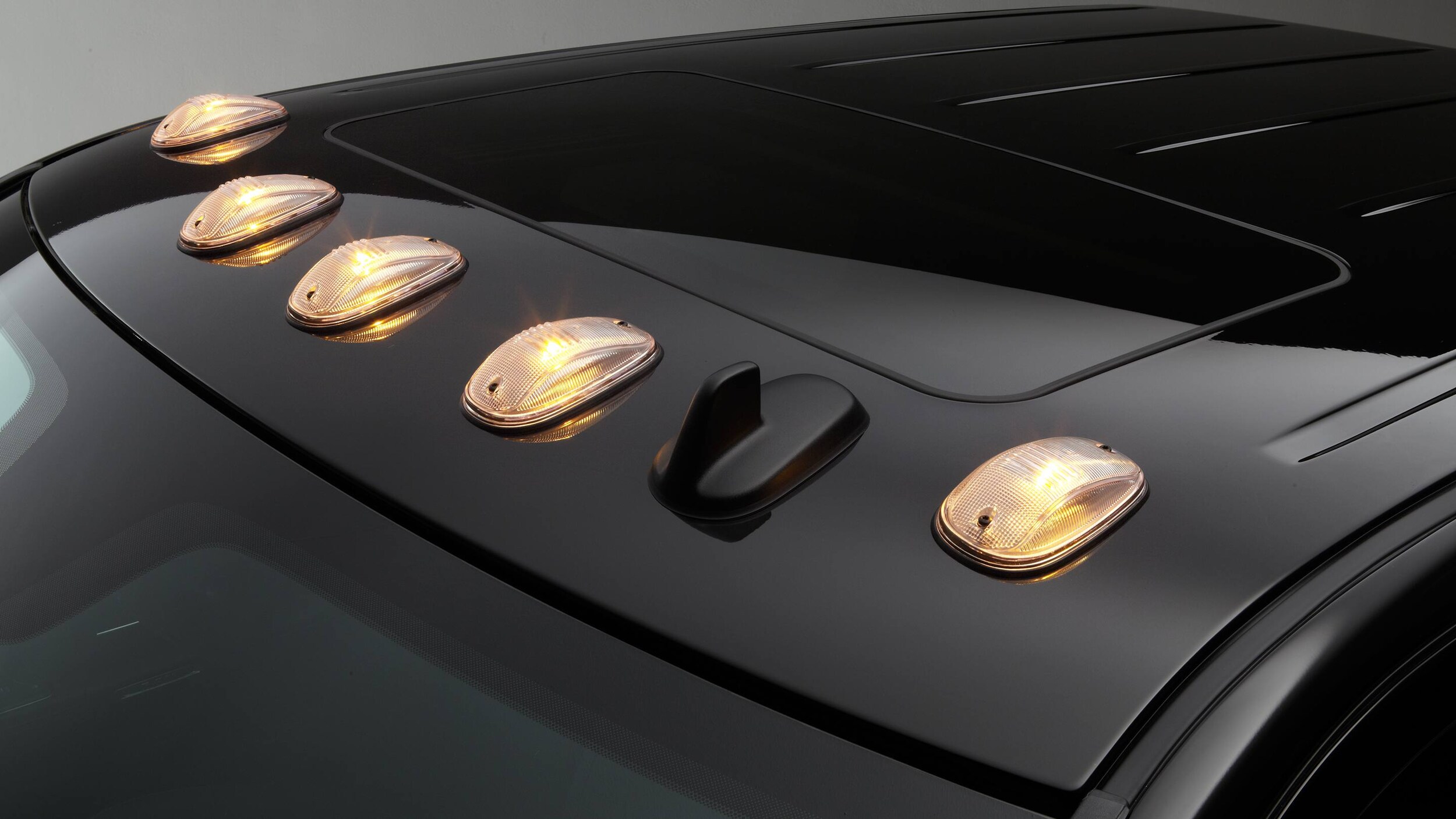 Other standard features in each include wireless phone hookup, power mirrors, premium sound system, satellite radio, power-steering and power windows. The RAM 3500 does stand out, however, for offering standard heated driver's seat, driver and passenger lumbar adjustments, seat memory and power driver and passenger seats.
RAM 3500 Vs Ford F-350: Exterior Looks
Both behemoths are well-styled to perform their work truck duties, as each features six wheels to facilitate towing and hauling. Both also include standard fog lamps, integrated turn signal mirrors, front tow hooks and privacy glass, and boast the rugged, durable styling you would expect of their respective breeds.
There are many differences to focus on but we'd like to point a couple in particular. The 2018 RAM 3500 comes with standard 18-inch polished aluminum wheels. The Ford has slightly different wheels, they are only 17 inch polished aluminum. In addition to that, the RAM 3500 gives to its owners, a standard bed liner. On the other hand, the Ford F-350 will give you a bed liner, but it's going to cost extra. One last thing we'd like to bring to your attention is the actual width of each truck. The Ford F-350 is much wider than the RAM 3500, so finding a wide enough parking spot can be challenging especially in smaller areas or parking lots.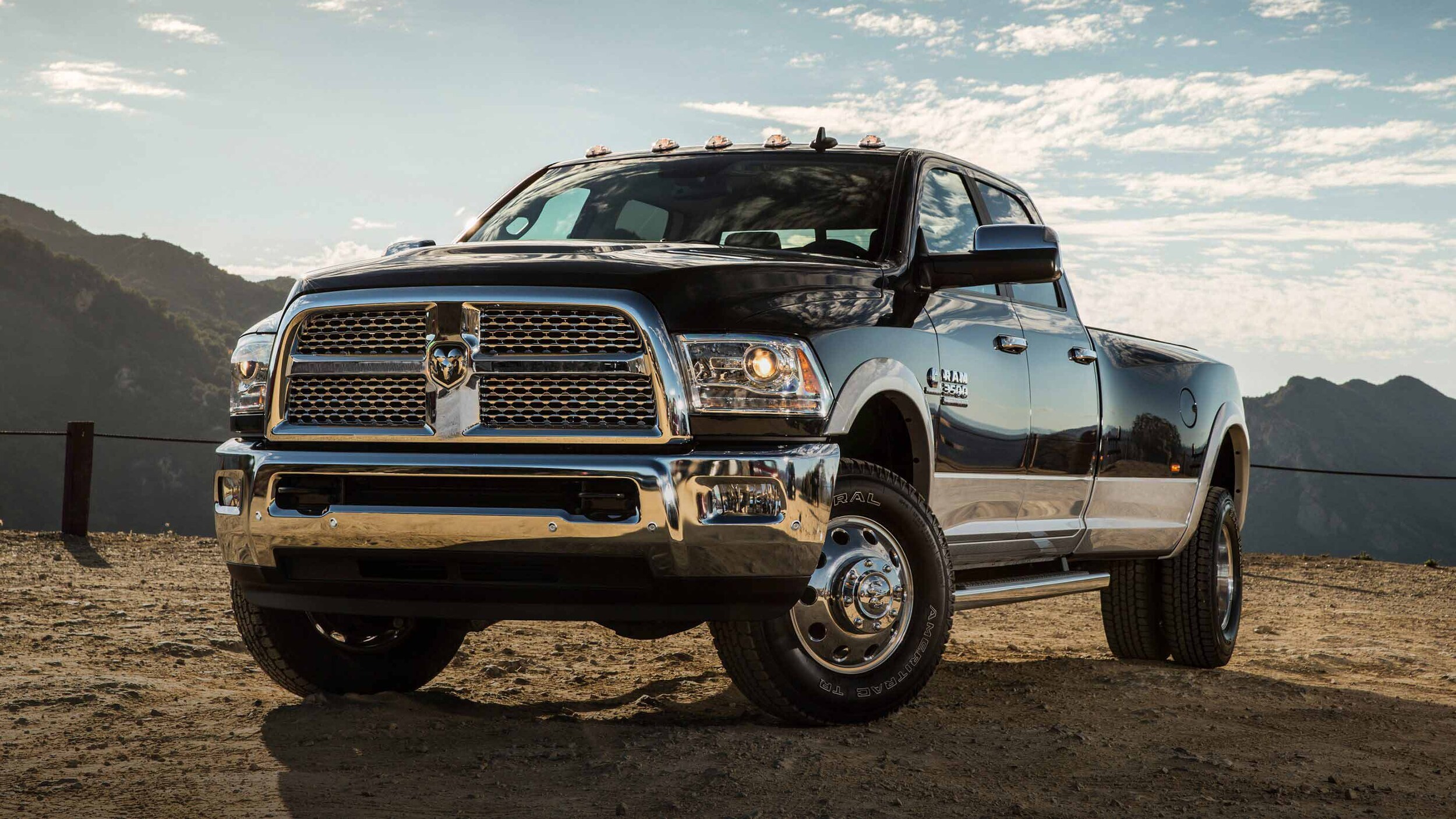 Why Buy From Northgate CDJR Serving Covington, KY?
In this Ford F-350 vs RAM 3500 truck comparison, the 2018 RAM 3500 stands apart with a much higher maximum towing capacity and more powertrain options.
Browse your options in our new 2018 RAM 3500 Inventory, and take it for a test drive. Walk into or dealership or contact us to schedule a test drive near Covington, KY in addition to our trained and helpful staff guiding you to find the perfect fit for your requirements.